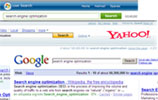 Last week, I spoke with a Web designer from an established Web design and development firm in Singapore to find out why many of these companies have not adopted SEO as part of their offering to their clients.
The Web designer questioned the need for SEO when their clients could pay for sponsored links to get visitors to their sites.
I want to know what other people thinks, so I posted this question to my Linkedin community:
Why bother to SEO when you can pay for sponsored links?
And here's some of the replies I received.
Jolly Tan:
I am just wondering if this web designer is trying to make fast bucks out of his clients, and not helping them get into top search engine ranking organically.

Business Owners need to beware! I think the better advice is…. business owners need to be educated to understand of how they can strategically plan their web sites to be SEO-friendly, and find their websites ranked favorably amongst their competitors.

Paying for sponsored links is one way to get traffic and new leads (which can be expensive and a waste), but business owners need to know that they also can get free leads from organic search results.

This way, they maximise marketing effort by using both sponsored links and the organic search results through SEO.
CK Lee:
If a service provider cannot provide "value added" service to his/her clients, the day will come when his/her clients leave for someone who can take care of their interest better.

Many service providers here are pretty short-sighted, they just do what they are told. As the saying goes, it is much easier to keep a client than to find a new one. So do all things to make your clients happy and they will stay with you for years and feed your pockets.

As a service provider, he/she has to look at the project from the client's view point. To the clients, getting a website up is not only to feel good and for branding purposes, but the ultimate objective is to get sale and, traffic is one of the way to improve sale.

And get one's website listed in the top positions in SERP is one of the more effective way to get traffic, so, SEO is the must learned skill for all Web designer if they want to stay in this line for good and for long.
Mark Vozzo:
I feel that this mindset will have to change and that these types of Web designers are a dying breed. Clients are becoming smarter and more aware of the importance of ranking well for natural search terms.

If the client's objective is to get more traffic from Search Engines, then SEO is vital, SEM is a bonus add-on. There are numerous eye tracking studies (see Enquiro Research www.enquiroresearch.com) that prove that more eyeballs and more clicks occur in the Natural Search Results area of Google/Yahoo/MSN Live etc. In some studies I've read, sponsored link traffic only attracts 1 or 2 out of every 10 clicks.

From my own experience running very large PPC campaigns for Australian media news web sites e.g. www.smh.com.au and www.brisbanetimes.com.au, we get far more traffic from natural search (~30%) than paid search (~1-2%).
Henry Huang:
It will be ideal if SEO is core competence of web designers. However, in the real market, not many are aware what SEO is about. Could you sum it up in layman term? According to my web designer, Google states clearly that they do not simply go for keywords, so anyone who promises you of keyword optimizing for website design is actually a bluff. Do you agree?
We know Adwords, Yahoo Search Marketing(YSN) and Microsoft adCenter can be very effective in driving targeted traffic to your Web site and help you make money. So why do you want to pay thousands of dollars to hire an SEO consultant to optimize your site?
Post your comments below.