I was in and out of the Number 1 position for seo singapore since my last post on Ranked 1st for SEO Singapore. And I think it's alright for my ego as long as I am in the top 5.
This week, the last week of Year 2007, this blog was demoted to #3 and #4. LarryLim.net came up number 1 after vanishing from the top 10 for several weeks. And I was thinking what happened to my friend…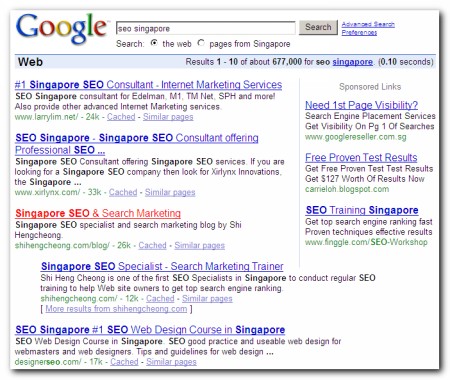 I believe Larry has been tweaking his site to rank for a new set of search terms e.g. internet marketing (Larry, here's a text link to you), internet marketing services and internet marketing consultant. He is probably positioning himself for a better new year.
How Do You Know Larry is Targeting "Internet Marketing"?
Look at the title tag: "#1 Singapore SEO Consultant – Internet Marketing Services". And he echoed "internet marketing services" in the description meta tag.
The meta title tag and meta description tag are the two most important meta tags where you want to place your targeted keywords.
In the content, you would notice that he used "internet marketing" repeatedly and even in the img alt tag!
A quick check at www.archive.org for previous versions of LarryLim.net and you will see the difference in the focus of keywords used in the current home page.
All the tweaking got him a top 10 position in Google for "internet marketing services" and "internet marketing consultant".
Well done, Larry! Drop me a comment when you get into the top 10 for "internet marketing".
Google #7 for internet marketing services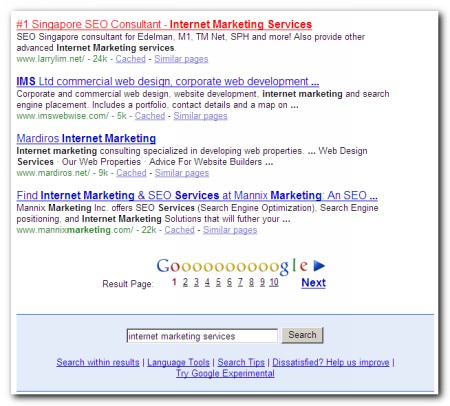 Google #2 for internet marketing consultant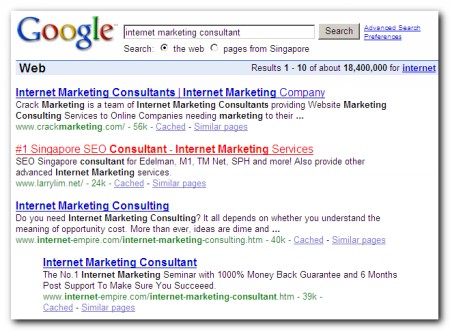 So what is my guess for…
Who Will Be Ranked #1 for SEO Singapore in 2008?
LarryLim.net!