This blog has been gaining visibility in Google lately. Beside rising in position for the search terms seo singapore, the home page is now ranked 7th for the keyword seo.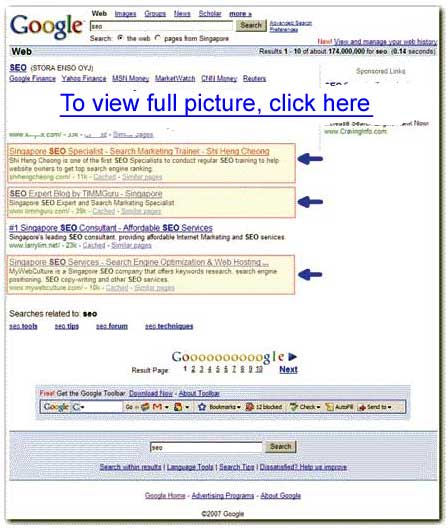 Localized Results for Country Specific Search
I have highlighted 3 results in the screen shot above. These sites belong to me – these are sites on search engine optimization and search marketing in Singapore.
However, these are the results displayed at www.google.com.sg not www.google.com.
Since early this year, Google has serving results based on the location of the users. So, if you are in USA or connected to the internet via your company server based in USA, your Google search will be defaulted to www.google.com and you will not see the same results as the one posted above. None of the 3 sites were even ranked in the top 100!
So you really want to plan your search engine optimization strategy carefully so that your sites will end up where it supposed to be.