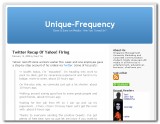 I was approached by Daryl Tay of Unique-Frequency to contribute SEO related articles to his blog. I, being a lazy person person, am not very sure if I can sustain the effort to write regularly for his blog.
So I came up with an idea…
"Why not ask me some questions on SEO and I will try to answer them."
I think that will be more interesting.
And here's the 10 SEO Questions Asked by Daryl Tan:
What is SEO and why does it matter?
What do you do in your SEO-related field of work?
How much should the average blogger know about SEO?
How does SEO apply to businesses?
How does Singapore measure in terms of SEO familiarity and utilisation, as compared with the rest of the world?
For most bloggers who may not appear in the first page of a Google search's results, what basic steps can we take to improve that ranking?
What other factors affect search rankings besides SEO?
What are the ways people abuse SEO, and how do we look out for them?
Google changes it's search algorithms from time to time, does that mean my previous SEO efforts have gone to waste?
What is the biggest, most common misunderstanding of SEO?
About Daryl Tay

Daryl Tay is currently pursuing his study at the Singapore Management University(SMU) majoring in Marketing and Corporate Communication.

You will get the answers to the above questions very soon, in 2 weeks' time, at his blog http://uniquefrequency.wordpress.com

Do bookmark his blog now or subscribe to his blog feed.

---
These are excellent questions targeting at Singapore's businesses. I am very excited about answering all these 10 SEO questions and see them get published at other people's blogs.
Do you also have some questions which you always wanted to ask?
Put them in the comment box below and I will look at them.