I read with interest an article in The Straits Times. It was about SPH Search, the much publicised but yet-to-be launched search engine that "promises to provide high relevant answers and Singapore-focused information to anyone anywhere in the world".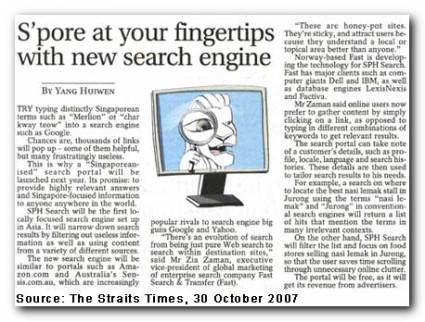 I think that's a very ambitious statement! And I really hope SPH will succeed – but it won't be able to "supplant the big names of Google and Yahoo as the prime tool for sourcing local information"
SPH is taking on Google and Yahoo
Yes, I found this article while researching "SPH Search" on Google. And as reported by The Straits Times (which is owned by Singapore Press Holdings Ltd aka SPH): Watch Out Google, here comes SPH Search
In case, the story is removed, here's an excerpt of the news report.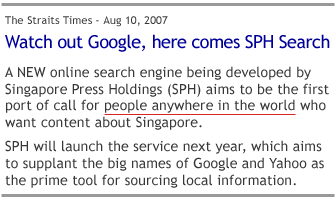 You can read from the above news report that SPH wants to be the king of search in Singapore.
Background of SPH Internet Strategy
They could have been, but they screwed up with AsiaOne.com. Four years ago, AsiaOne.com was in a very good position to become the number one local search portal. For many Singaporeans, that was the browser's Home Page.
To cut the story short, they got greedy and wanted people to pay money for the latest news stories online. On the other side, ChannelNewsAsia.com continued to improve on their contents and provide the latest news for free so all the disgruntled readers from AsiaOne.com moved to ChannelNewsAsia.com.
Here's the traffic ranking statistics from Alexa.com over the past 5 years: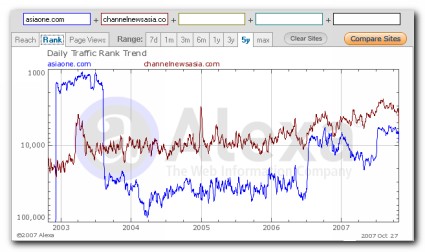 Since the AsiaOne.com, SPH has been building more new portals, e.g. ST701.com, xin.sg, omy.sg and maybe some others which I am not aware of.
Is SPHSearch.com the domain for SPH Search?

I did a quick check and found that SPH registered sphsearch.com, sphsearch.com.sg and sphsearch.sg. Maybe one of these will be used fro the new search engine. Here's a shortcut to all three SPH Search sites. [http://www.sph-search.com]
Well, go visit these portals and decide for yourself if SPH has what it takes to "supplant the big names of Google and Yahoo as the prime tool for sourcing local information".
I will appreciate it if you were to leave your thoughts in the comment box.
This is the first article of a series which focuses on SPH Search. In the next post, we will discuss the technology behind SPH Search.