Faster surfing speed by next month? No, I am not referring to the much publicized NBN(Next Gen Nationwide Broadband Network). I am talking about the little known Singapore Public Internet Exchange – SGIX, which I found out from yesterday's Digital Life.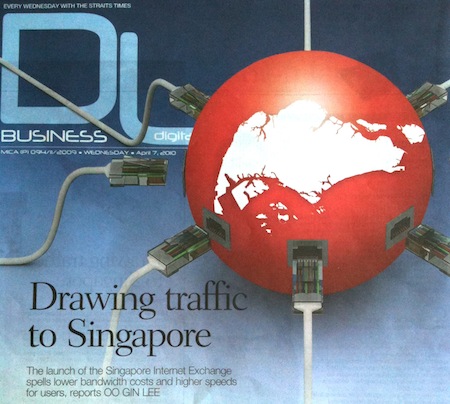 In my opinion, the SGIX is a critically important public infrastructure for Singapore. We have been relying on the carrier-specific Singtel Internet Exchange for too long.
Why STIX Singtel Internet Exchange Not Good Enough
The problem with STIX is, if you have a server at a data center in Singapore which is not connected to STIX, the traffic will have to be routed to Internet exchanges in Hong Kong(HKIX ) or in Japan(JPIX) or California(Palo Alto Internet Exchange and Los Angeles Equinix Internet Exchange) before coming back to Singapore.
And if you are wondering why Singtel is not peering with other carriers, you might want to read this report: The Singapore Internet Peering Ecosystem
"The broadband eyeballs in Singapore are owned by SingTel and StarHub (which acquired the CableVision Cable-based Internet subscribers). There is no incentive for either of these two Tier 1 ISPs to peer freely."
Typically, ping to a local server within Singapore is 30ms or less. But a ping will take 100ms or longer if it has to be routed to the nearest public Internet exchange in Hong Kong before coming back to Singapore.
I have been hosting some of my websites on a Rackspace Cloud Server which is located in USA. Average ping to this server is about 300ms, because of the ping latency, I wished I could use a cloud hosting based Singapore.
Last month, I bought a Voxel's Cloud Server located in Singapore. Voxel servers are housed at Equinix Data Center at Ayer Rajah. I was expecting to connect "directly" to the local server.
But I was wrong.
After 3 days of persistent testing and submitting support tickets to Voxel, I was using SingNet broadband, I was still accessing my local sever at Ayer Rajah via Los Angeles!!! Here's the traceroute:

traceroute to 180.92.186.210 (180.92.186.210), 64 hops max, 52 byte packets
1 192.168.1.254 (192.168.1.254) 5.650 ms 1.605 ms 2.164 ms
2 bb116-14-180-1.singnet.com.sg (116.14.180.1) 19.484 ms 18.894 ms 19.589 ms
3 202.166.121.41 (202.166.121.41) 19.653 ms 18.720 ms 19.741 ms
4 ge-3-0-0-3700.stella.singnt.com.sg (202.166.124.105) 19.378 ms 20.582 ms 19.684 ms
5 xe-0-0-0.singha.singnet.com.sg (202.166.120.13) 19.616 ms 19.120 ms 19.390 ms
6 ae5-0.beck.singnet.com.sg (202.166.126.41) 19.641 ms 18.838 ms 70.760 ms
7 203.208.190.129 (203.208.190.129) 21.733 ms 21.561 ms 31.448 ms
8 xe-1-0-0-0.sngc3-cr1.ix.singtel.com (203.208.183.33) 19.756 ms 19.772 ms 19.535 ms
9 so-2-0-3-0.laxow-cr1.ix.singtel.com (203.208.149.238) 210.768 ms 208.521 ms
so-2-0-1-0.laxow-cr1.ix.singtel.com (203.208.151.114) 309.686 ms
10 ge-6-1-0-0.laxow-dr1.ix.singtel.com (203.208.183.138) 211.167 ms 205.021 ms 209.122 ms
11 ge9-10.br01.lax05.pccwbtn.net (63.218.73.101) 212.366 ms
ge9-11.br01.lax05.pccwbtn.net (63.218.73.105) 200.025 ms
ge9-10.br01.lax05.pccwbtn.net (63.218.73.101) 199.733 ms
12 voxel.ge9-24.br01.sin02.pccwbtn.net (63.218.229.14) 199.791 ms 196.239 ms 197.176 ms
13 21.te1-5.csr1.sin1.sg.voxel.net (72.26.220.18) 195.152 ms 195.408 ms 199.024 ms
14 180.92.186.210 (180.92.186.210) 203.120 ms 201.936 ms 200.206 ms

Taken For A Ride Half Way Around The World
As you can see, SingNet sent me half way around the world before connecting me from Tampines to Ayer Rajah.
And a ping to the local server via this route took about 200ms, that's nearly 7 times longer than I expected. Apparently, Voxel which uses PCCW network did not peer to STIX.
There is nothing that I can do but terminate the Voxel Singapore server because I am already using 2 different data centers in California, USA. It's not Voxel's fault, which is already a member of SGIX. It's just that our public Internet exchange is not ready yet and has to rely on STIX's peering.
Hopefully, with the launch of the 2 new nodes, at 1-Net and Global Switch Singapore, surfing to local servers will be faster and I can use any data center in Singapore without worrying of being taken for a ride. Otherwise, even if we have the NBN, accessing local websites will mean wasting time via Hong Kong Internet exchange or worse, like my case, via Los Angeles!
Here's the list of the 14 SGIX members (as of 8 Apr 2010):
1-Net Singapore Pte. Ltd.
Deutsche Telekom Asia Pte. Ltd.
France Telecom Long Distance (S) Pte. Ltd.
Infocomm Asia Holdings Pte. Ltd.
LGA Telecom Pte. Ltd.
MobileOne Ltd.
New MediaExpress Pte. Ltd.
Nucleus Connect Pte. Ltd.
PacNet Internet (Singapore) Pte. Ltd.
Singapore Advanced Research and Education Network (SingAREN)
Singapore Telecommunications Ltd.
Starhub Ltd.
Tata Communications International Pte. Ltd.
Voxel Inc
More information(PDF download): IDA's Media Fact Sheet on SGIX