We brought forward the date of the next SEO Web Design Workshop to June 28 and 29 instead of the first week of July. This coming SEO Workshop will be different from the previous one.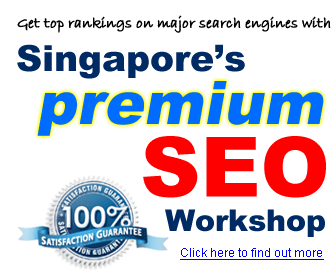 First, it is conducted on Thursday and Friday.
The reason why we change it to weekday instead of Friday and Saturday is because we've got requests from some companies to make it convenient for their staff as Saturday is a off day.
Second, we extend the first day. It will be from 9am to 9pm instead of 9am to 5pm.
We provide more time for our participants to create their own search engine optimized web page in class under our guidance. Previously, our participants did the web page as homework and some participants who were not so computer savvy find it challenging to use a HTML editor to create a web page.
Thirdly, the SEO workshop will be restructured.
We have been conducting this SEO Web Design Workshop for nearly 2 years now. Many people in Singapore is now aware of SEO and understand the need for SEO. We want to take SEO training to a higher level by offering an advanced course on search engine optimization and search marketing. We will call it – The Advance SEO Course.
The existing SEO Web Design Workshop will be renamed as The Basic SEO Course or The SEO Foundation Course.