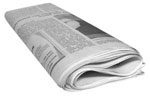 Finally, I got the SEO Web Design Course press release approved by PRLeap.com. I submitted it last Friday for release on 12 Feb 2007, that was yesterday.
However, it was not approved by the editor because the format was not right.
Here's the suggestion for me to fix the problem:

Your submission is not approved because it does not follow standard press release format.

Suggestion: Rewrite your submission using the inverted pyramid format. Make sure to put the most newsworthy information at the top, and then the remaining information follows in order of importance, with the least important at the bottom.

A press release should have a headline, summary, lead paragraph, body and about section. A press release should read like a news story. A good release will sound as if it's been lifted from the front page of a newspaper. News stories are written in third person.

The only time your press release should contain pronouns such as I, we, us, or, you, your, etc. is when you are quoting someone. Opinions should only be expressed inside quotation marks.
I rewrote the headline and the summary. Kiat Wee helped me to rewrite the body according to the inverted pyramid format. Go read the press release now:
MyWebCulture Announces SEO Web Design Course in Singapore
The SEO Web Design course reveals strategies for designing
search engine friendly websites and teaches website owners
proven SEO techniques that will enhance search engine...
You see, the headline and the sumary sound quite formal and matter of fact. However, I feel that the body of the press release is not exactly "inverted pyramid". It would be pretty boring to make it that way.
What is important is the lead paragraph. It has to be the most important paragraph – to summarize what the press release is all about. In this case, what the SEO Web Design training is all about and what so special, I mean newsworthy, is this piece of information.
Also the headline has to be like news headline, no pitching and no sensationalizing. It has to sound really formal. And I don't like such writing. I can't write in that way!
PRLeap.com Press Release Stats
I like the statistic provided by PRLeap.com. It shows how many times the press release was viewed and also when the search engine robots have visited.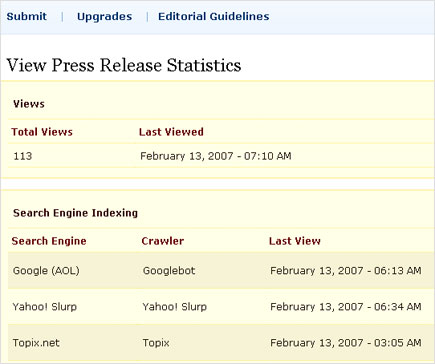 Google News
The press release was "immediately" picked up by Google News.