"I am pessimistic about the long-term prospects for SEO jobs"
– Jakob Nielsen, the web usability expert.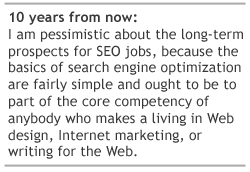 In a special report published by ZDNet, Bright SEO career prospects could dim, two experts gave their views on the career prospect of SEO consultants.
It was reported that SEO is such a fundamental skill that every marketing executive and IT specialist should be SEO-savvy.
SEO Industry in the USA
SEO jobs are in demand in the US. Maybe, as Jakob Nielsen predicted, the trend will soon peak and the demand dwindle in 5 to 10 years. SEO and in broader aspect, search marketing will be integrated into traditional marketing. The art and science of marketing will stay, we just have to deal with different platforms and new social behavior of consumers.
SEO in Asia
In this part of the world, Singapore and probably surrounding regions, SEO has barely started. People and business are just beginning to be aware of the need for SEO and search marketing. So, I guess we can add another 5 years to Nielsen's prediction.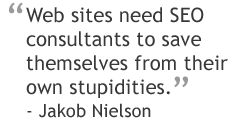 The principles of SEO have yet to be taught in the schools. Maybe, they will do it next year. Then, in 5 to 10 years, marketing executives and IT specialists may be SEO-savvy and can "save themselves from their own stupidities".
For 10 years, such stupidities have persisted, as mentioned by Nielsen. So what makes him think human nature will change for the better in the next 10 years?