I loved Sunday. I believe this is the day when Google like to mess with the search engine ranking and I get my momentary fame. Finally, my big day has come, this blog is ranked Number 1 for the search terms: seo singapore! on Sunday, 25 November 2007.
Is this an early Christmas gift from Google?
Thank you, thank you, thank you….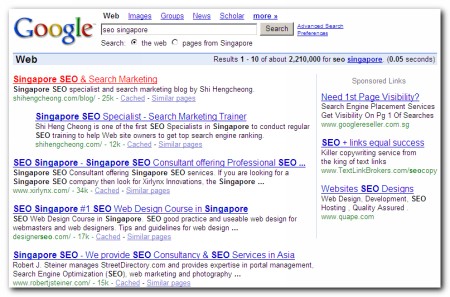 That's the result on www.google.com.sg and if you used www.google.com, then shihengcheong.com/ is 2nd and shihengcheong.com/blog/ is 3rd. These are the best ranking I've ever gotten with this blog for the search terms: seo singapore.
Why is "seo singapore" a hard keyword?
Well, I supposed seo singapore is the targeted keyword for SEO consultants, SEO Specialists and SEO companies in Singapore. If you offer search engine optimization services, you will want to be visible when people search for "seo" related terms in Google.
However, until now, this keyword is not high traffic; not for Singapore-based traffic.
SEO Singapore is just another Ego Keyword
So, for those who optimized for "seo singapore", it is just another ego keyword. You want to be ranked for this keyword to show off to your potential clients that you are capable of doing the SEO job. And to show off to your competitors that you are better than them.
So, how did I get to the top?
Honestly, I have not done anything different for the past 6 months on this blog. Just the usual stuff:

Write regularly on SEO related topics, at least weekly. I keep this blog like a journal – actually, more like a rant.
I look for SEO related articles and blogs to comment and to write about.
I also write on topical issues. Search engines love fresh content and topical blog posts get better visibility.
Google Official #1 SEO Singapore: Shi Heng Cheong
Now that I am at the Number 1 ranking, I must be darn good! – for the day or maybe 2 days, until Google decided that someone else deserves the accolade.
Heheheh… 😉