I mentioned in my earlier post, Top Ranking for Blog, about a blog marketing course. The trainer of the workshop, Tan Kian Ann was featured in yesterday The New Paper. And here's the report…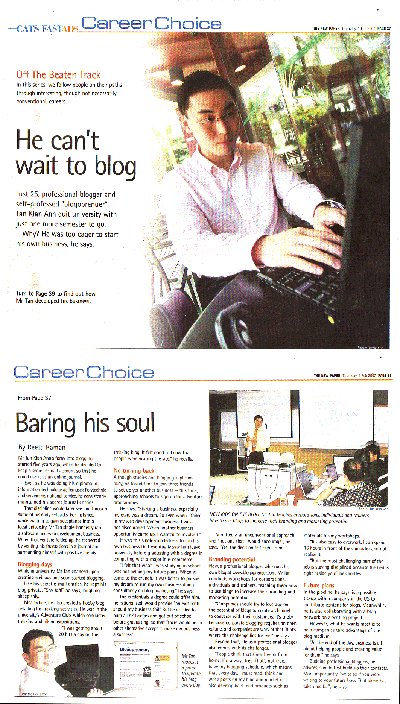 Maybe you ask, "Why need to learn to blog?" or "Isn't blog marketing just like marketing a website?"
Blogging is not new. People started to write online journal since the end of last century. Ok, it not really a hundred years old but it definitely has been around for some years. Youngsters are the ones who started weblog(the older name for blog) at that time and it was about keeping an online diary and sharing it with your best friends.
You don't have to learn how to keep an online diary. Anyway, keeping an online diary may not be what you want to do if you are thinking of marketing online.
You want to learn how to blog so that you can become popular for what you've written. Popular means you'll have a big readership and each of your blog post is listed in the major search engines, news updates, Digg and has hundreds of other blogs linked to you verified by Technorati.
Basically, you want recognition for your blog.
So you'll need to know what's professional blogging and how to market your blog so that you can influence how your readers going to spend their time and money!
Will You Make Lots of Money After Learning How to Blog?
Let's put it this way, there are some professional bloggers that make a 5-figure monthly income from their blogs. And there are hundred of millions other bloggers who don't make a single dime even if they have Google Ads plastered all over their splogs!
So, since you're already blogging, you might as well make it properly and professional – get proper blog marketing training. And gain recognition for your blog.