SPH-Search.com is a new domain name I registered on 30 Oct 2007 for the purpose of experimenting how quickly I can get it into the top 10 of Google for the search terms: sph search.
A simple page was put up and the links to all 3 SPH Search domains were placed right at top.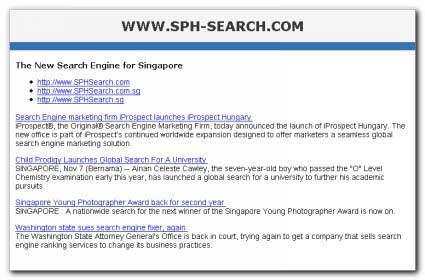 In doing so, I am actually helping www.sphsearch.com, www.sphsearch.com.sg and www.sphsearch.sg to be found since the folks at SPH Search Pte Ltd are not very good at SEO.
Today, 8 Nov 2007, this new domain is ranked #5 for the search terms sph search in both www.google.com.sg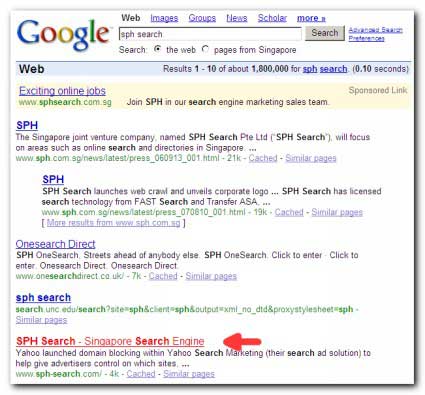 and also No. 5 in www.google.com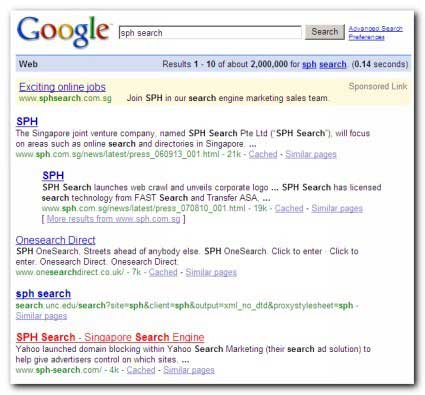 Having Keywords in the Domain Name Helps
This experiment proved that having the search terms in the domain name helped to get your web site to get better ranking in Google search. However, please note that this advantage is only applicable to not-so-competitive keywords.
Why "SPH Search" is a NOT SO Competitive Keyword?
The first thing SEO specialists when optimizing a page is to make sure the targeted keywords are found in the title attribute of the page. This title is displayed at the top left hand corner of your browser window.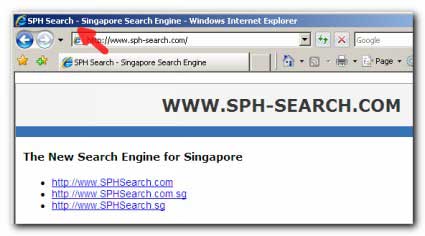 How to Find Out if a Keyword is Competitive
You can use intitle:, one of the advance search operators, in Google to find out how many web pages have "sph search" in the title.
intitle:"sph search"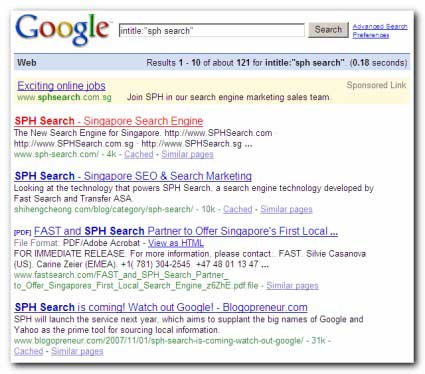 Google found 121 pages that have the phrase "sph search" in the title. This is such a small number compared with a keyphrase such as "search engine" which has more than 1 million pages.
Now you know why I could get into the top 5 so quickly, because it is so very easy!
Come on, let's make it more difficult and I want you to add some more pages to this measly listing of 121 pages. The benefit is that you may be in top 5 quicker than you think.
Go blog about SPH Search and link to my new domain, http://www.sph-search.com. Please leave me a comment so that I can write something about your blog and return you a link!