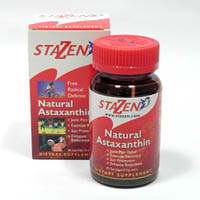 I was introduced to astaxanthin by TC Yeap. We had a meeting 2 days ago to discuss about promoting this health supplement using Internet.
He has been importing this new super-antioxidant into Singapore for some time now. However, this food supplement which is primarily a carotenoid has not been popular in Singapore or around the region.
So we discussed the feasibility of marketing astaxanthin in Singapore by building a website and promote it online. It tooks us several weeks to come up with a microsite with information on the benefits of natural astaxanthin and also a sales letter to sell the Stazen brand astazanthin which is imported from the USA.
[Updates] Natural astaxathin (60 Gel Caps) can be purchased in Singapore at Vitamin.sg.