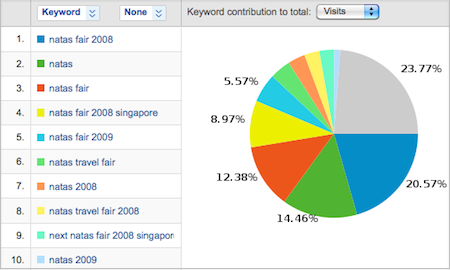 I have been writing blog posts on the NATAS Travel Fair over the past few years and in the process collected thousand of keywords related to this annual travel events. In fact, more than 4,725 keywords related to Natas Fair drove visitors to my blog posts via the search engines over the past 2 years. Out of all these keywords, I would say "natas fair" follows by the year for e.g. natas fair 2014 is always the hottest keyword.
Keywords that Drive More Visitors
Beside the hot keywords, you may also want to look at the Longtail keywords. As expected, internet users in Singapore are getting move savvy and we see that local search is getting more granular. Here's a sample of the Natas related search terms:
natas offers
natas package
natas fair offers
natas travel deals
natas travel package
natas fair best deal
best deals at natas
pre natas promotion
natas fair opening hours
cheap holiday package travel natas
It doesn't take a genius marketer to see that these are words used by people who are ready to buy a travel package, book hotel accommodation, purchase travel insurance and spend lots of money at a click…
Travel Agents Did Not Advertise on Google for Natas Fair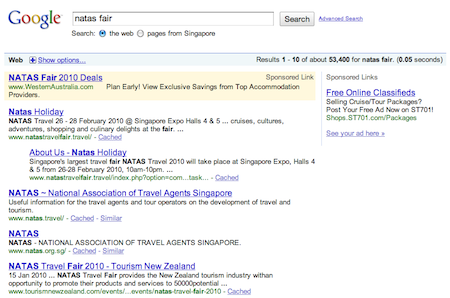 If you were AdSense publisher, you would be quite disappointed by the dearth of Google advertisers in Singapore for such an important travel event. You probably wonder why travel agents were not advertising on Google for Natas but spent hundred of thousands of dollars on trade fairs, print advertising and TV ads.
Natas Fair 2014
I had the feeling that Google resellers in Singapore were not working hard enough to look for travel agents to advertise on the search engine. Or they didn't have the experience to promote for a one-time event that lasted for only 3 days. Hopefully, with better tools provided by Google to help them do a better job and we will get more PPC advertisers.