The title of the article should be "Keyword Case Study: Online Flower Delivery in Singapore" but I think that would be too long for a blog post title. This article is about keyword selection and fast ranking for longer keyphrase. Yes, I got a 2nd page, #17 listing for online flower delivery in singapore in about 3 hours!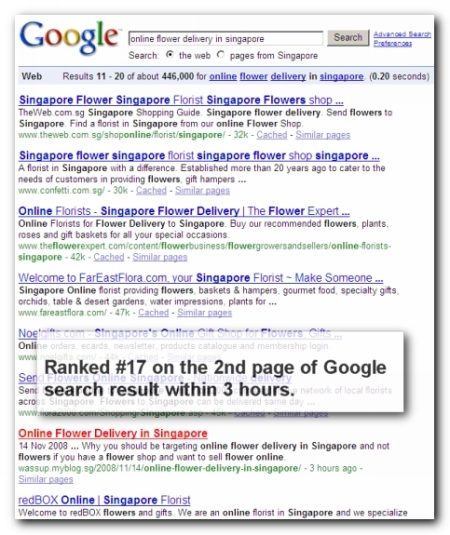 Flowers and florists are very competitive terms for both organic and paid listing. So I want to use a longer keyphrase that is related to both flower and florist.
Why not Flower, Flower Shop, Florist or Online Florist?
Longer keyphrases are easier to SEO and rank in the first 2 pages of the search engine result listing. Main reason being there are lesser competitions. Most site owners will target the very competitive one-word terms and two-word phrases such as flowers, florist, flower shop, online florist and so on.
Also people who entered longer keyphrases tend to be in the advanced stage of the buying cycle so the chance of her/him making a purchase is higher.
In the case study: Online Flower Delivery in Singapore, I wrote that according to OneUpWeb.com keyword study in 2005, 3-word and 4-word terms were more profitable. Owners of new site will have faster result when targeting such longer keyphrases.
Update [16 Nov 2008]: The blog post title "Online Flower Delivery in Singapore" is now ranked #6 in the 1st page of Google search result for the search terms online flower delivery in singapore and #9 for online flower delivery singapore.