How about 50,000 pages in less than 4 weeks! Yes, Google indexing is blazingly fast. It indexed more than 50,000 page of it's competitor – the new Singapore local search engine Rednano.sg – in less than 4 weeks!
On 19 March 2008, I reported at Wassup blog, one day after Rednano.sg was first launched that it had 1 page indexed and I captured the screenshot just 25 minutes after Google crawled the Rednano homepage.
Google Indexing is Fast
Today, 15 April 2008, less than 4 weeks after Google first indexed Rednano.sg, it has indexed more than 50,000 pages of Rednano.sg.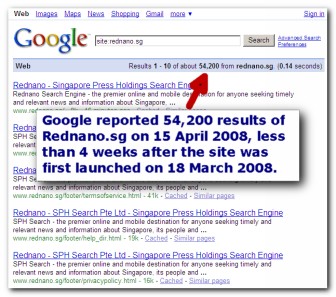 I have this feeling that Google engineers know more about Rednano.sg than the people at SPH Search.
Now, that we know Google can index a large Web site with ten of thousand of pages very quickly, you must be wondering…
So what did Rednano.sg do to enable fast Google Indexing?
For Google to index the page, it will to know the URL to crawl the page. For a search engine like Rednano.sg, the results will only be displayed when a user enter a query. However, Googlebot does not interact with the query box to get the result pages like a human visitor.
So Rednano.sg has to provide Googlebot the URL (permalink in blog lingo) to its result pages, URLs such as this:
http://www.rednano.sg/sfe/dir.action?querystring=YA+KUN+KAYA+TOAST
I reckon SPH Search will be happy to have Google indexed all of its directory listing and help to drive traffic to the new directory.
In order to do that, Rednano.sg has this page called Site Feature which provides the URLs to it's inner pages:
http://www.rednano.sg/footer/sitemap.html
which has a link to
http://www.rednano.sg/sfe/dirhome.action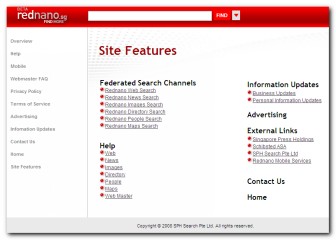 Search Engine Friendly Site Structure
In this way, Googlebot will crawl the following path:
-> www.rednano.sg
-> www.rednano.sg/footer/overview.html
-> www.rednano.sg/sfe/dirhome.action
-> the rest of the directory pages
As you can see, this is a site structure that works pretty well despite the fact that the rest of the pages are more than 2 levels below the homepage. If you want to build a Web site with thousand of pages listed in Google search results, make sure you design the site structure and make it "crawlable" and search engine friendly.