After reading Kian Ann's amazing feat on getting into Google's 1st Page in 17 minutes, I started a series of experiments to test if such results are reproducible. Yes. I managed to repeat the results again and again.
So far, the fastest result I obtained was 13 minutes for a 7-terms phrase. My newest test done less than an hour ago with the search terms sph search, got into the 8th position in about 19 minutes.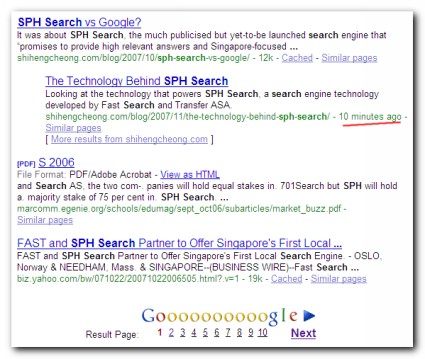 In fact, the web page was ranked 13th within 11 minutes. I guess it took Google algorithm another several minutes before realizing that the domain has got another page ranked at 7th and promoted the new page to the 8th position.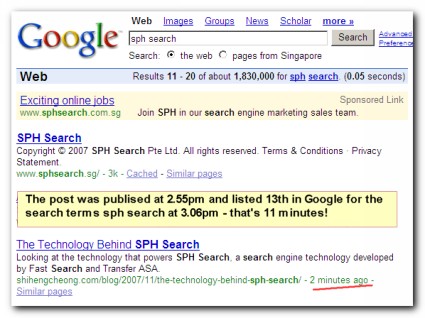 Here's another screen shot of a web page which got into the Google SERPs in 13 minutes: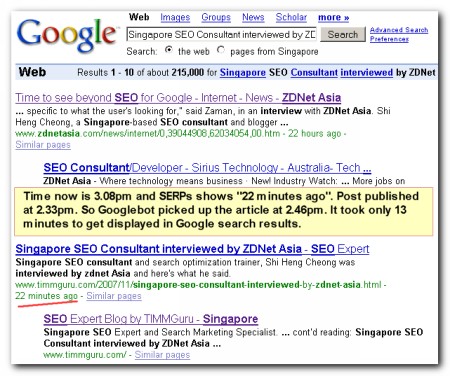 In another independent test, Kian Ann made a new post about SITEX 2007. I read about the post about 30 min. after the published the article. I did a search on Google for sitex 2007 and found the article was ranked No. 9. I estimated that it took about 31 minutes for this page to appear in Google's top 10 results. Here's the screen shot: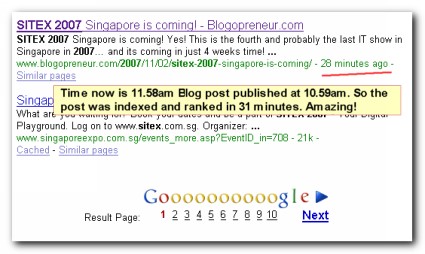 In conclusion, I am very confident that with a blog, one can get a web page into Google index and ranked in the top 3 pages within 30 minutes for a moderately competitive keyword. I am amazed to discover that Google is capable of delivery the latest information almost instantaneously to the marketplace.
Learn How To Get Top Google Ranking in 17 Minutes

I will be discussing this Fast Ranking Technique in the coming SEO Workshop on the 22 and 23 Nov 2007. You will learn exactly how we achieve this results during the 2-day hands-on workshop. Visit the following URL and register for your seat now!
_
If you've experienced such fast indexing and ranking in Google with your web page, please leave your thought in the comment below. Thank you.