Free Google email hosting may seem to have little to do with SEO. However, what I am going to share with you is more than SEO, it will help improve your website performance.
We are not only talking about optimizing your website for search engine robots; we are talking about making better for real human visitors – your potential customers.
For the technically inclined, you will understand that the mail server is taking up valuable resources on the machine which you also use to serve Web pages. Such sharing of CPU resources may slow down your website performance.
Website Optimization
Dynamic website using content management systems and blogs will suffer in terms of performance, i.e. how quickly the page is displayed on your visitors' computer.
Now let say you stop using the mail servers and dedicate all the computing power to your CMS and blogs, then their performance will definitely improve.
Likewise, if you are running a busy e-commerce website with shopping-cart then you definitely want to use all the computing power for a smooth check-out process and give the best customer's experience.
Stop using your Web server for email hosting, instead use Google Apps for all your business email accounts.
Google Apps Email Features
The biggest advantage is the SPAM and virus filtering.
Can you imagine those emails with virus infected attachment sitting next to your gorgeous Web pages!?
Even with anti-virus software installed, the mail server which comes with your Web hosting account cannot compare to the level of security and the computing which Google can offer.
If you are interested to know more about the fantastic features which Google hosted email for business can offer, visit
http://www.google.com/a/help/intl/en/security/index.html
And Google gives you 100 free email accounts with 6GB of storage each.
POP3/SMTP for Outlook and Outlook Express
You can access your business email using the familiar GMail webmail interface and/or download your email messages to Outlook or Outlook Express.
Your email address will remain the same, i.e.
And not some esoteric [email protected]
However, in order to use the free Google Apps and your own domain name, you need to edit the DNS/MX settings. For those who have an existing Web hosting, you can get your hosting provider to enter the MX records provided by Google.
Set Up A Domain Just for Google Email Account
If you have an idling domain name or thinking of registering a new one just to take advantage of the email service of Google Apps and not to host a website, then you have to make sure your domain registrar also offers DNS hosting or DNS management.
GoDaddy and many other domain registrars do not offer this option because I guess they want you to also buy hosting from them.
Try Name.com, you can use Google Apps with their domains.
Otherwise you'll need to register for the free DNS management service at ZoneEdit.com
Set Up SPR Record for Your Google Email Addresses
Last point, you will want to set up a SPF record. At your DNS management, add the following TXT record:
"v=spf1 include:aspmx.googlemail.com ~all"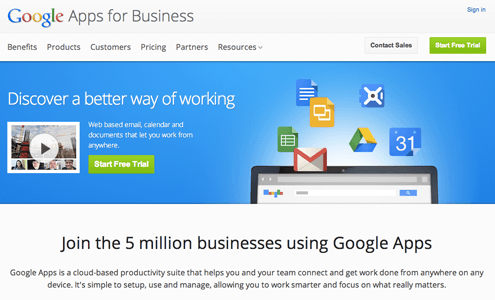 [Updates] Google stopped offering free email hosting for business on 6 Dec 2012. For more information, please visit http://support.google.com/a/bin/answer.py?hl=en&answer=2855120