Apparently, the Internet jam in Asia has eased. In Singapore, the Internet chaos was headline news instead of the death toll of the Taiwan quake.
Things seem to be back to normal since last evening, even Singtel broadband users could surf to USA sites without throwing their hands in the air!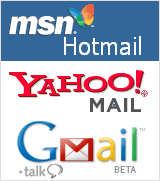 However, the reliability of free email services still puzzling me – GMail and Yahoo mail were both inaccessible while Hotmail was ok during Dec 27, 2006. There are many Yahoo mail users in Singapore. From my own unofficial survey, more then 50% of the people I know have Yahoo mail and use them while 30% prefer Hotmail and the rest uses GMail. I use all three. In fact, I have yahoo.com, yahoo.com.sg and yahoo.co.uk accounts!
I have no problem using my Hotmail account. I use the free Hotmail account but I am one of the "privilege" few that can access Hotmail mailbox via Outlook Express. I received emails from other Hotmail users and also some newsletters from USA.
Is it because Hotmail has "mirror" servers hosted somewhere in South East Asia or maybe right here in Singapore. It would really be nice if Google and Yahoo can do that too!
I guess I'll be using my Hotmail more frequently since it is "earthquake proof"! 😀
So Which Free Email Do You Prefer?