I am amazed with the quality of these free Adsense themes and templates which I stumbled upon this morning while looking for WordPress for business type of templates/themes. Here's two of my favorite: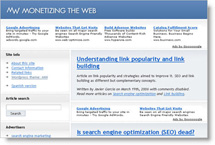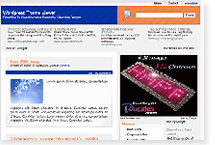 I will be using them for a new content website on a niche that I'm interested to dabble in. And, one of the best way to monetize the traffic for such an informational website is to use Adsense.
You'll see that the Google Ads are strategically positioned for high click-through. The WP Colors template even use the image ad to spruce up the overall aesthetics of the web page. With good content and a touch of SEO copywriting, I am sure such web pages will make you a good Adsense income.
Using of These Free Templates to Make Money
If you are going to build a new site, there is no need to put up the Google ad. Instead, you may want to replace the Leaderboard and the Rectangle ads with some interest pictures to attract more traffic while you build up your content.Typically, I will build at least 10,000 words of good solid content – these words serve as fodder for search engine spiders. And is critical to getting my pages getting listed in the SERP. The next step would be link building.
Visit forums, blogs and social networks to get people who are interested in your niche to visit your website and give you a backlinks. Once you've have a steady stream of visitors, you can then put up the Google Ads to monetize your targeted traffic.
Remember: Good content for niche is the key to your online success.
Warning: Adsense Templates Sold by Internet Marketers
Not too long ago, Adsense templates was the hype and a very popular Adsense expert turned Internet marketer was selling such templates for hundreds of dollars. And many "Internet entrepreneurs" use these templates to build MFA(Made for Adsense) sites by web scraping article directory, blogs and news portals.
Do not waste your money and time to create more web trash. You are just making it more difficult for yourself to make money online.