Would you like to make a passive income with your unused domain names?
Domain parking monetization would be the answer to the thousands of Internet entrepreneurs who registered new domains and buy expired domain names quicker than they can build content for the websites.
If you are not aware of domain parking monetization, then you would have only 2 options.
Park it with your registrar for free
Create a new hosting space, and put up a "under construction" page.
Option 2 is the preferred method if you have the spare web space and time to tinker with the web page. More importantly, you put what you want on the website.
However, most people will opt for the first option and just park it with their registrars. It is simply more convenient to do so.
Free Domain Parking is Not Free After All
However, do you know you could be losing money if you park "free" with your registrar.
Take Godaddy as an example, it provides free parking for your domains. Your "parked free" domain will displays Sponsored Links and other ads put up by GoDaddy. In fact, I think it looks better than an "under construction" page.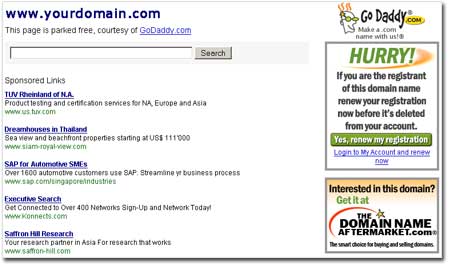 When people come to your domain and click at those sponsored links, GoDaddy get paid – not you. Your domain is now making money for your registrar!
You can stop this!
You can park your domains with paid domain services and get paid for all those clicks.
Paid Domain Parking
There are a host of domain parking monetization providers that will help you to earn domain parking revenue with your unused domains.
DomainSponsor.com
iMonetize.com
Klickerz.com
RevenueDirect.com
NameDrive.com
Fabulous.com
Sedo.com
GoldKey.com
ActiveAudience.com
I do not used all of them. Just a selected few.
The selected few paid domain parking services which I used were Klickerz.com, iMonetize and Afternic(ActiveAudience).
I started with Afternic because I've put up some domains for sale there and conveniently park with Afternic. However, ActiveAudience which Afternic is using to serve the parking pages, are forward to Sedo parking pages. And I don't like it.
SEO Friendly Domain Parking
One thing I am particular concerned, beside higher earning per click, is whether the pages serve by the parking service is SEO friendly. You don't want your domain, especially if it already has a Google pagerank(PR), to have the following SEO taboos:
dynamic URLs
HTML frames
forwarding to external pages
For various reasons, including SEO concerns, I will recommend Klickerz for better earning and GoldKey for SEO-friendly features.