Article submission also know as article marketing is one of the most effective way to drive traffic to your website. Ask any seasoned internet marketers and they would definitely endorse this tested and proven method.
However, article submission takes time and effort. And there are certain "rules" that you need to following in article marketing.
I have been using EzineArticles.com and GoArticles.com for my article marketing campaigns. These are the two most popular portals and get lots of traffic every day. Many webmasters also publish articles found in these article directory portals.
Here's an article I submitted last week: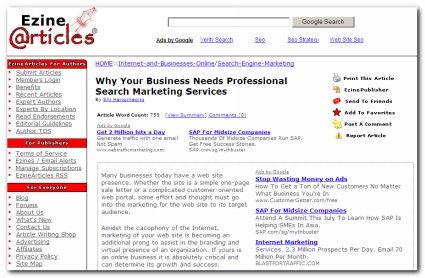 Why Your Business Needs Professional Search Marketing Services