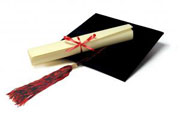 In the previous Affiliate Marketing 101, you discovered that affiliate marketing is not really about selling but buying — helping people to buy.
In this second part of Affiliate Marketing 101, let's find out what are the courses available for affiliate marketing.
Here, we are talking about affiliate marketing of services and products outside Internet marketing. That is, we are not talking about selling ebooks and software tools to help newbie Internet marketers to make money. So you will need a website, not just a sale letter web page and a autoresponder.
Help Your Visitors to Buy – The Concept of Preselling
We are talking about providing information to help visitors to your website to buy the services and products that they are looking for. If you've heard about SiteBuildIt(SBI), you would have heard about the concept of preselling by Dr Ken Envoy. In his Affiliate Master Course, he used practical examples from his own SBI to illustrate how you can help you visitors to buy with the technique of preselling. This is probably one of the best course available on affiliate marketing and it's free. You can download the ebook at:
http://aff-masters.sitesell.com
Don't expect to see many pictures or graphics in Ken Envoy books. He can presell with just words. Pictures are used only when they are absolutely necessary.

If you are interested to find out how Ken makes his words presell, download the free ebook, Make You Content PREsell. Interestingly, this ebook has more graphics and cartoons.
Work At Home Based Business Training Course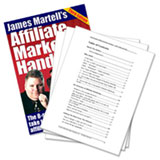 Another very successful affiliate marketer and affiliate marketing coach is James Martell. Basically, he uses somewhat similar concepts as Dr Ken Envoy — building content websites and refer visitors to merchants.
In James Martell case, his work at home based business training course, Affiliate Marketers Handbook(US$167), teaches you how to build content website that'll rank high in the search engines.
James Martell has done many experiment with search engine optimization and will show you his "secret" SEO formula.
And to monetize the traffic, you will learn how to select merchants of affiliate networks such as Commission Junction (www.cj.com), LinkConnector (www.linkconnector.com) and LinkShare (www.linkshare.com). The handbook also shows you how to increase your earning with Google Adsense publisher program.
Affiliate Program Tutorial Online
If you are looking for a free online tutorial on affiliate marketing then AssociatePrograms.com Affiliate Program Tutorial is a good starting point. You will learn the basics and the important rules to becoming a successful affiliate marketer.
Study the tutorial and you can also see preselling in action. During the course of the tutorial, you will be referred to Dr Ken Envoy's SiteSell program and James Martell's Affiliate Marketers Handbook. Allan Gardyne's AssociatePrograms.com is one of the most successful affiliate for both Ken and James!
Affiliate Marketing without Email SPAM
While some Internet marketers claimed that you don't have to learn HTML or build a web page to make money online, they are not telling you the whole truth. They will build the sale letter web page. You will become a Clickbank affiliate selling their ebooks and software tools to other Internet marketers wannabes in a virtuous cycle. You don't have get caught in the virtuous cycle selling their Clickbank products and sending SPAM to IM wannabes.
You can do it the right way by learning from the truly successful affiliate marketers: Ken Envoy, James Martell and Alan Gardyne, without having to send out series of hyped-up email messages.