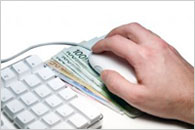 This is the first installment of a series of articles on affiliate marketing. Affiliate marketing is a loose term, it is used to describe the promoting and selling of goods and services on the Internet.
To different people, affiliate marketing means different thing.
Here's just some of the possible scenarios:
If you were Ewen Chia or Jo Han Mok, you would be talking about selling other people's (usually Internet marketers) ebooks or software tools for Internet marketing. Of course, you will have to become a member of Clickbank.com and use direct email to peddle your ware and pitch your sale.
If you subscribed to what Joel Comm has been preaching, then you're looking at Google Adsense. Strictly speaking, Adsense program is a form of affiliate marketing since you are actually promoting somebody else's web pages, be it a squeeze page, services for hire and products for sale.
If you know who James Martell is, you're probably members of some affiliate networks such as CJ.com, Linkshare.com, LinkConnector.com and etc. You earn a commission when someone buy the services or products of the merchants that you feature in the content of your website.
The Bottom Line is to Make Money
The bottom line is to make money by influencing your visitors to buy others' services and products.
Of course, you can publish a blog on a niche and start doing your affiliate marketing. But wait, you'll want to learn how to build the right content to attract enough of the right traffic so as to convert your readers into buyers.

Stay tuned to this blog and you'll get the answer to all your burning questions on affiliate marketing.
Are you here to learn how to make money or to learn what affiliate marketing is all about?